Conversation Piece
CONVERSATION PIECE - Picture of a family group; also, [a French genre painting] that depicts the activities of the common people (from Whitton, Interior Design and Decoration 5e, Prentice Hall, 1997)

Some of you may have noticed that except for the title/glossary term, I really don't talk all that much about interior design and home stuff, but today I think I will. Um, because I can. (so there)

Interior design students are highly recommended to take psychology classes because, simply put, the way we decorate a room affects our mood, particularly in terms of color and lighting. There's a new blog link within the new list of blog links (those links, they be forever a-growing) for Design Psychology if you want to learn more, lest I get completely off track.

I believe that objects in a room have an effect too, so in the interest of education, I'd be over the moon if you shared with me what you have and what you want in your house/apartment/castle/funky bungalow. I'll start, and I'll use quotes from Oscar Wilde to help me.

That Which I Adore - "I adore simple pleasures. They are the last refuge of the complex."


"Now and then it is a joy to have one's table red with wine and roses."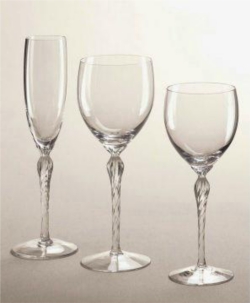 Why do I want to go buy a bottle of shiraz right now?
My absolute favorite item in my apartment is my set of
Lenox Aria wine glasses
. I love the fact that unlike a lot of other crystal, all decorative elements remain on the stem instead of on the glass itself. I like being able to see my wine. The carvings are also very delicate and look very pretty and elegant on nearly any table setting. I've had these for seven years, and whenever one of them has broken, I embarrassingly cried a little bit. Speaking of tears...
"I know that for me, to whom flowers are part of desire, there are tears waiting for me in the petals of some rose."

Mmm... purty


I've found
ebay
to be like an outlet mall for original art. You have to search like hell, but you can uncover some wonderful finds. The painting above is similar to one of the ones in my living room. I love the way this artist (I believe she goes by
Iwonna J
on ebay) paints flowers so close up that they become erotic viewing. I only have one of these paintings, so I think I need to get another one soon so I can pair them up. Speaking of IwantIwantIwant...

That Which I Covet - "In this world there are only two tragedies. One is not getting what one wants, and the other is getting it."
"Mere colour, unspoilt by meaning, and unallied with definite form, can speak to the soul in a thousand different ways."

Too. Bloody. Expensive.

The plum color on this
Calvin Klein bedding
is so rich and stunning. And it goes with my walls. The texture is so sumptuous, I could spend the whole day rolling around in bed. And damn if it's out of my price range. And it's probably not machine washable. Something this beautiful but impractical should come with a reminder that there's only 37 shopping days left until Christmas. Speaking of machine washable...
"The amount of women in London who flirt with their own husbands is perfectly scandalous. It looks so bad. It is simply washing one's clean linen in public."


I want this exact model!

One of the most difficult aspects of apartment living is the fact that either you have to hoard quarters or make humiliating trips to your parents' house in order to get clean clothes. That's simply disturbing. Right now, my dream is to have my very own washer/dryer in my apartment so that if I want to wash a pair of jeans and just a pair of jeans then I will wash a pair of jeans without the change-wasting guilt or having to bring a book with me so that I have something to do while I wait. What a nice world that would be.

So let me know what in your place makes/would make you happy. Perhaps we could start a gift exchange. :)

Before I go, I wanted to share one last gem from Oscar Wilde, aka He Of The Best Deathbed Words Ever:

"Either that wallpaper goes, or I do."
posted by La Nina @ 1:18 PM