Plate
PLATE - A collective term for objects made of silver or gold. (from Whitton, Interior Design and Decoration 5e, Prentice Hall, 2002)

A lot of people think that Thanksgiving is their favorite holiday of the year. For me, it's simply a pain in the ass.
"Why's that, Nina?" you may ask, and I'll tell you, because I'm cooperative like that.
Every year, my family and I drive four hours to Maryland to visit my aunt and uncle (Dad's brother). Aunt "Iris" (names have been changed to protect the picked-on) insists on hosting every year, and she insists on cooking everything. That would be smooth sailing save for one thing: Iris is an incredibly sucky cook.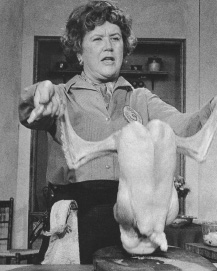 Julia Child she ain't
I realize that making Thanksgiving dinner is a lot of work, but it's not that hard to screw up. Yet somehow Iris manages it with amazing consistency.
Turkey? Overcooked. Every year. Splinters the tongue.
Have you ever seen a pink cranberry mousse before? I have.
Since when did gravy taste like dark cocoa powder?
I wish somebody would tell her that you're supposed to drain the green beans before you put them in the casserole.
I'm the only person I know who loses weight during Thanksgiving. It's because we all end up sitting there, looking at a plate of food we don't want to eat and trying to politely nibble our epicurean oddities while Iris plays food pusher. The only time I ever hear my father's childhood nickname is during this holiday. "C'mon Bunky, have some more!" I can hear bellowing from the dining room as I excuse myself and dash into the living room with a sudden interest in football.
Afterwards, my younger brother and I have our only bonding moment of the year as we leave our hotel and drive to the only open bar in town, drink and eat mozzarella sticks. How's that for tradition?

My real Thanksgiving dinner...thank goodness
We're holding out a bit of hope this year. We've been graciously allowed to bring the mashed potatoes this year as they're "not eating anything white anymore." I guess this means I won't have a shot in hell at the drumstick. Bummer.
Well, give us an inch, and we'll take a mile, because now we're bringing shrimp cocktail and my brother is bringing the only thing he knows how to make: homemade apple pie. (Yeah, that one makes me scratch my head, too.) I got the easiest job in the universe: bringing the nuts. Poysonally, I think we're all nuts for going in the first place. *insert Groucho Marx gesture here*
Damn I'm punchy.

Screw the presentation!
Actually, my dad's family can be a lot of fun. It's always a kick to have someone who asks you to "Say penis!" during the family photograph.
Happy Thanksgiving, everyone!
posted by La Nina @ 10:51 AM